Microsoft made over 100 updates and announcements in the month of August 2023 for the Microsoft 365 platform. Don't have time to read them all? We've gone through all of them and put together what we feel are the most important updates for you to be aware of.
Microsoft Lists continue to become more powerful and flexible. You will soon have the ability to add ratings to list items, drag-and-drop or paste images, see who else is working on a list in real time, quickly switch between views using tabs instead of a dropdown menu, and more. Improvements to the native list-connected form are also coming soon, making the list form look and function more like Microsoft Forms but without the need to connect the two with a workflow. If you're not already using Microsoft Lists, consider exploring this great app by transferring something you've historically tracked in Excel and see what it can do for you. Lists can be displayed in SharePoint and Microsoft Teams channel tabs, so they're available where people are already working.
Transport Rules in the Exchange Admin Center will no longer have options for DLP-related actions starting in November when creating a new rule. Microsoft recommends migrating all DLP-related transport rules to the Microsoft Purview Unified DLP, which can be found in the Compliance portal (compliance.microsoft.com). Microsoft has not streamlined a migration process from Transport Rule to Unified DLP, so the rules need to be migrated manually. Please review your rules and migrate any that may exist. After any rules have been migrated, be sure to delete these rules from the Transport Rules section of the Exchange Admin Center. The specific actions and conditions/exceptions that will be removed are listed below:
Actions: NotifySender

Conditions/Predicates: MessageContainsDataClassifications (message contains sensitive information), ExceptIfMessageContainsDataClassifications, HasSenderOverride (sender has overridden the Policy Tip), ExceptIfHasSenderOverride
Microsoft Secure Score now features integration with Microsoft 365 Defender Unified Role-based Access Control (RBAC) permissions model. The option to grant granular permissions was previously part of Azure AD security roles, such as global administrator, however, within this Unified RBAC model, a custom role that includes the new Secure Score permissions can be created. Specific data sources such as Defender for Endpoint, Defender for Office, and Defender for Identity are available for scoping. Microsoft has indicated that the new permissions model is not active by default and requires a tenant administrator to opt-in to the new Unified RBAC model. The rollout of the new RBAC control was slated for completion in August 2023.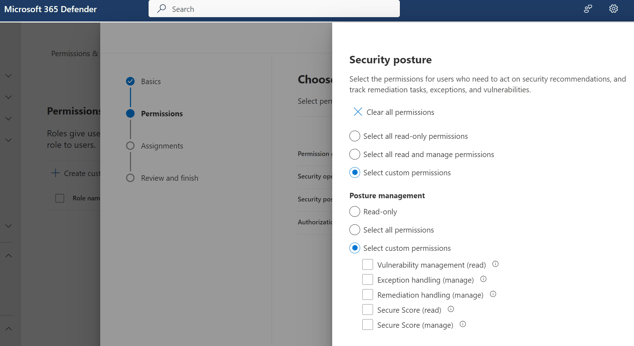 Secret scanning is now available as part of the agentless scanning in Defender for Servers P2 and Defender CSPM. This capability helps to detect unmanaged and insecure secrets saved on virtual machines, both in Azure or AWS resources, that can be used to move laterally in the network. If secrets are detected, Defender for Cloud can help to prioritize and take actionable remediation steps to minimize the risk of lateral movement, all without affecting your machine's performance.
Defender Vulnerability Manager Premium features are being restricted to ONLY devices which have a valid Defender for Server P2, Defender for Endpoint P2, or another valid Vulnerability Management License such as the Vulnerability Management Add-on or Stand Alone license. Previously, you could onboard devices with a Defender for Server P1 license and as long as you had a DfS P2 license, then all devices would receive the premium features. This is no longer the case.
Servers licensed for DfS P1 will still be able to track and report vulnerabilities - but will not be able to proactively block vulnerable applications or warn users about risk. Premium vulnerability management also includes the ability to run CIS benchmarks against your systems for additional telemetry, which will now be restricted to your P2 licensed devices.

Microsoft Loop is an exciting, new, co-creation app that's aimed towards helping teams collaborate on projects. Loop has Jira and Trello integrations, is available on iPad and PCs, and will bring together multiple M365 applications include Teams and Outlook. Components created in Loop, such as a section of text, a table, or a checklist, can be shared to other Microsoft apps like Teams, where changes anywhere will be sync'd back to Loop. Microsoft Loop is being rolled out to users with Microsoft 365 Business Standard, Premium, E3, and E5 licenses, but admins will be able to control who has the ability use Loop, create workspaces, and pages/components created in the Loop app
Microsoft has announced a new OneDrive experience that overhauls the OneDrive home page along with file experiences across the Microsoft 365 collaboration stack. The new OneDrive Home experience reduces the time to find your files so you can spend more time being productive. The new "For you" section leverages AI to surface file recommendations that are personalized to you. They've also added and enhanced context-based organization with views that show you recent, shared, and favorite and files from meetings. The new People view organizes your files by the people you most frequently collaborate with. These features are part of the overall "personalization and organization" story for OneDrive and SharePoint that Microsoft has been working on. Colored folders are also on the horizon; coming before the close of 2023, colored folders add a touch of personality and organization to OneDrive, which we hope to see come to SharePoint and Teams.