Microsoft made over 100 updates and announcements in the month of December for the Microsoft 365 platform. Don't have time to read them all? We've gone through all of them and put together what we feel are the most important updates for you to be aware of.
Organizations can use customizable Sensitivity labels to help classify and protect their data. This built-in feature allows users to apply labels to supported Office files in OneDrive/SharePoint contents of Office files that have been encrypted by a Sensitivity label. Microsoft has extended these labels to be displayed in the Sharing dialog box in OneDrive/SharePoint so that users are aware of applied labels before sharing.  Check out this link for more information about Data classifications, Sensitivity labels, and Data Loss Prevention (DLP) policies.
Microsoft has completed the deployment of new buttons in Outlook web that will allow users to report emails as phishing, junk, and not junk.  If you have deployed the Outlook add-in buttons that serve the same purpose in the past, Outlook web will display two sets of buttons for the time being.  Both sets of buttons will behave the same way.  If you have not deployed the reporting add-in, then you will no longer need to in order to use the features as it is now available by default in Outlook web.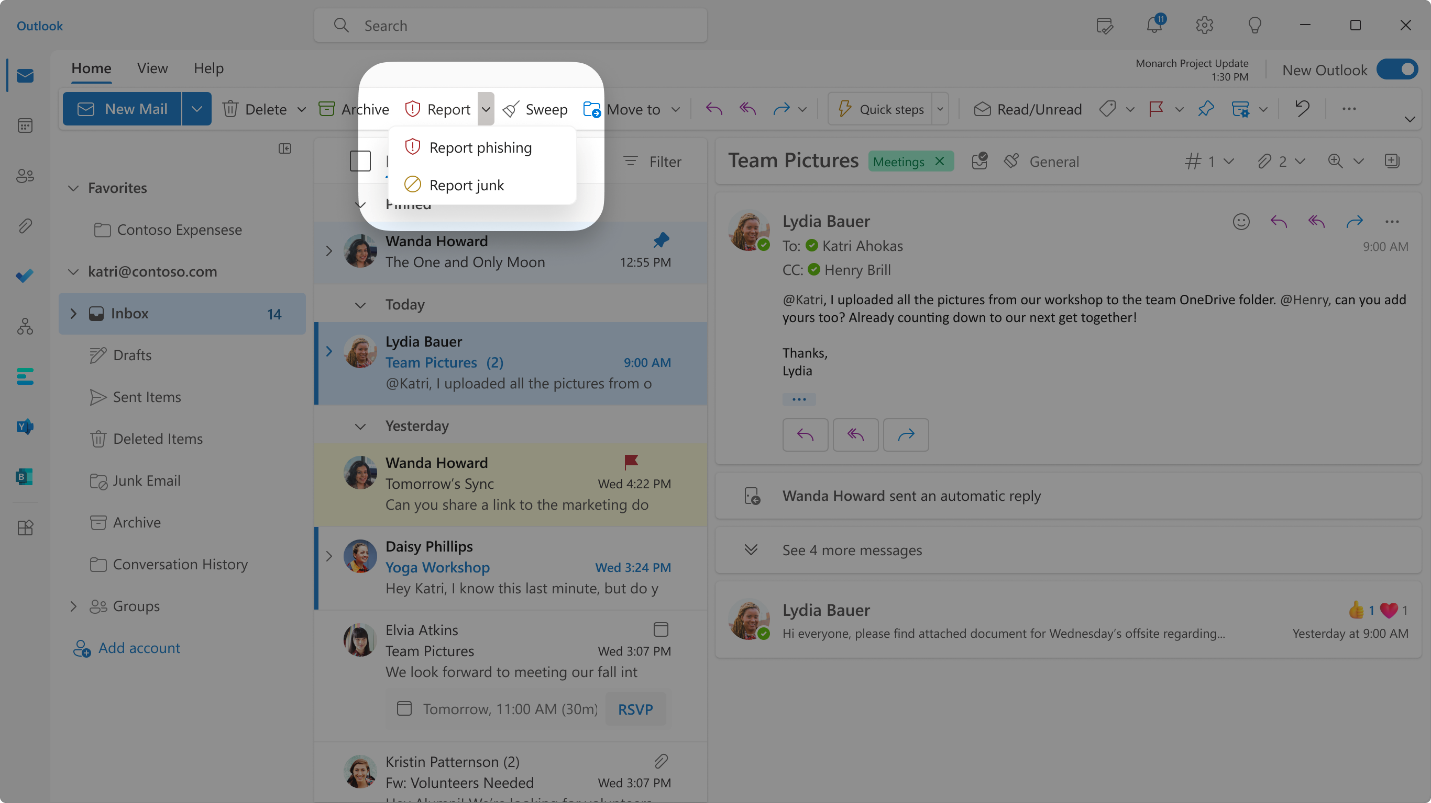 With File Request feature in SharePoint Document Library, users have an easy and secure way to request and obtain files from anyone. Users can choose a folder in SharePoint Document Library where others can upload files using a link that is shared with them. Users you request files from can only upload files; they can't see the content of the folder, edit, delete, or download files, or even see who else has uploaded files.
For several years, the SharePoint admin center could export a detailed CSV file containing extensive metadata about all existing sites.  A similar feature has been added to the Microsoft Teams admin center, which can be very helpful for reporting on Teams-specific metadata such as the number of channels by type (standard, private, and shared), owners, guests, privacy, status, and classification.  Combining the exported information from both the SharePoint and Teams admin centers provides a more comprehensive overview of your tenant's collaboration architecture.
Check your update ring settings because, as of December 13, all editions of Windows 10, version 21H1 have reached the end of servicing. The December 2022 security update, released on December 13, is the last update available for this version. Devices running this version will no longer receive monthly security and preview updates containing protections from the latest security threats. ​To help keep you protected and productive, Windows Update will automatically initiate a feature update to Windows 10, version 22H2 for consumer devices and non-managed business devices when they are nearing or have reached the end of servicing. This allows your device to continue to receive monthly updates that are critical to security and ecosystem health. 
Beginning January 15, 2023, Microsoft will pause the Viva briefing emails as they continue to develop and improve the service. Viva currently sends users daily emails highlighting items such as outstanding tasks, follow-ups, and recent documents and recommends times to schedule independent work. Although users will no longer receive the daily emails, they can access still utilize the service with Viva Insights Outlook Add-in or Viva Insights App in Teams or Web.
As of Thursday, January 19, 2023, Microsoft Power Automate email notifications, such as approvals, flow alerts, and sharing notifications, will be sent from the following email addresses:
These emails will be sent from the IP addresses outlined here: Power Automate approval email delivery information.
Use the OneDrive sync health dashboard in the Microsoft 365 Apps Admin Center to get an executive summary of everything happening with OneDrive so that you can resolve common issues quickly and focus on other strategic tasks as an administrator.
Proactively keeping OneDrive healthy helps ensure that your organization's information is protected. The dashboard provides you with sync health reports for tracking relevant health issues and advisories, checking the sync status and app version of individual devices, and monitoring Known Folder Move roll out.
As previously announced, Office 2016 and Office 2019 clients
will no longer be supported to connect to Microsoft 365 after October 10, 2023. After this date, these Office versions may still be able to connect to Microsoft 365, but that connection won't be supported, and end users might experience performance or reliability issues over time.