Microsoft made over 100 updates and announcements in the month of January for the Microsoft 365 platform. Don't have time to read them all? We've gone through all of them and put together what we feel are the most important updates for you to be aware of.
Previously, to create a "dropbox"-like location where external parties could submit files without the ability to see the contents of the folder or what someone else has uploaded, you had to use OneDrive. Microsoft has started rolling out this "File Request" feature to SharePoint Document libraries, and it will be generally available by the end of February. Admins can enable or disable the Request Files feature at the tenant level via the SharePoint Online Management Shell.
Microsoft is introducing 3 new SharePoint site templates dedicated to helping you create sites for your HR department, showcase Events, and a template powered by Microsoft Syntex to do contract management.
With the new HR and Events communication site templates you will be able to build sites that highlight and showcase your content and share this information broadly with your organization. The HR site brings together all of the information your employees need to navigate the complexities of employment and benefits. The new Event template includes many great layout suggestions and will highlight any upcoming event you are planning.
With the Microsoft Syntex-powered contracts management template you can learn more about how Syntex works and be able to get started right away. This template also comes with a prebuilt tutorial and some established models designed to help your team get started with Microsoft Syntex.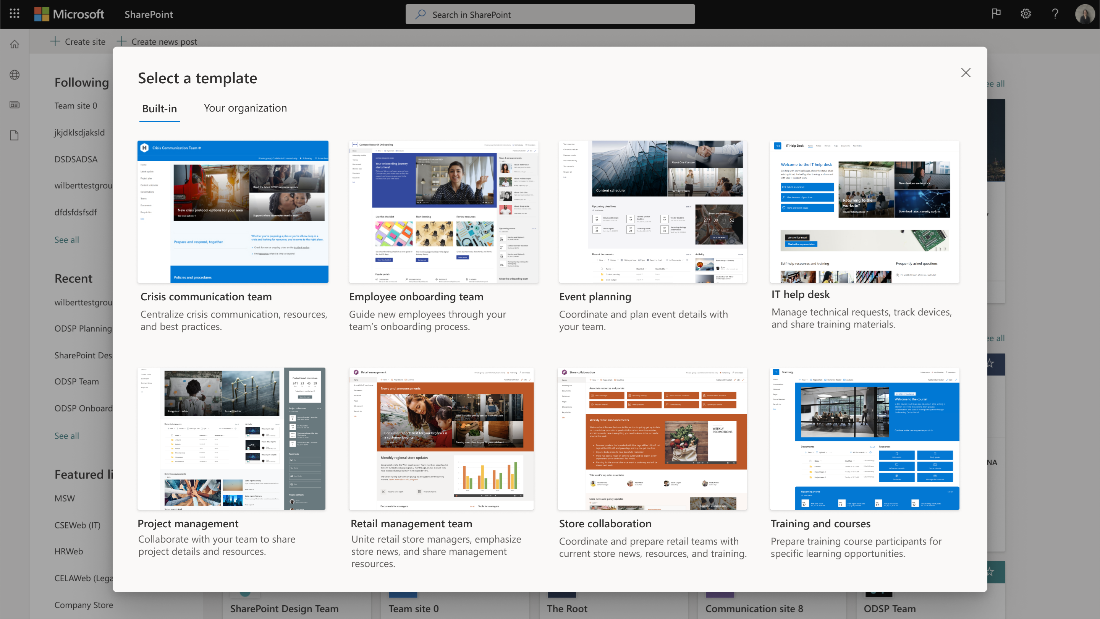 Microsoft is introducing a cmdlet called Test-Message that tenant admins can use to independently investigate issues related to the processing of Exchange Transport Rules (ETRs) and Unified DLP rules without having to engage Microsoft support for assistance. When troubleshooting why an Exchange Transport Rule was not triggered or is not working properly, using the Test-Message cmdlet will simulate test email messages and generate an evaluation report that shows what rules matched/didn't match for certain messages. This feature is scheduled for rollout in late January with a target completion of mid-February.
Previously, when drafting a SharePoint pages or news post, a multi-step process would be required to keep that page private while drafting, if desired.  This new feature will allow you to select 'Create as a private draft' at the time of page creation.  This keeps the draft private to you and chosen collaborators only until it's published for broader consumption on the site.
The reports page from the Microsoft Purview compliance portal is being retired. These reports will no longer be shown:
Get-DlpDetectionsReport

Get-DlpDetailReport

Get-DlpSiDetectionsReport

Get-DlpIncidentDetailReport
Instead, use the Activity Explorer view to access this information.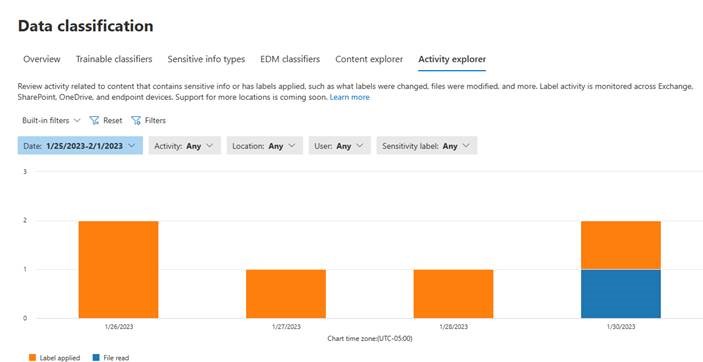 The OneDrive web portal will be redesigned soon to make it easier to get to the files that you need.  The new view shows all of the files that you've used and ordered by when you last opened them.  You'll still be able to switch back to the old view by selecting the My files on the left-hand side.  This new view is targeted to release in late January, with a standard release rolling out in early February and expected to complete by late February.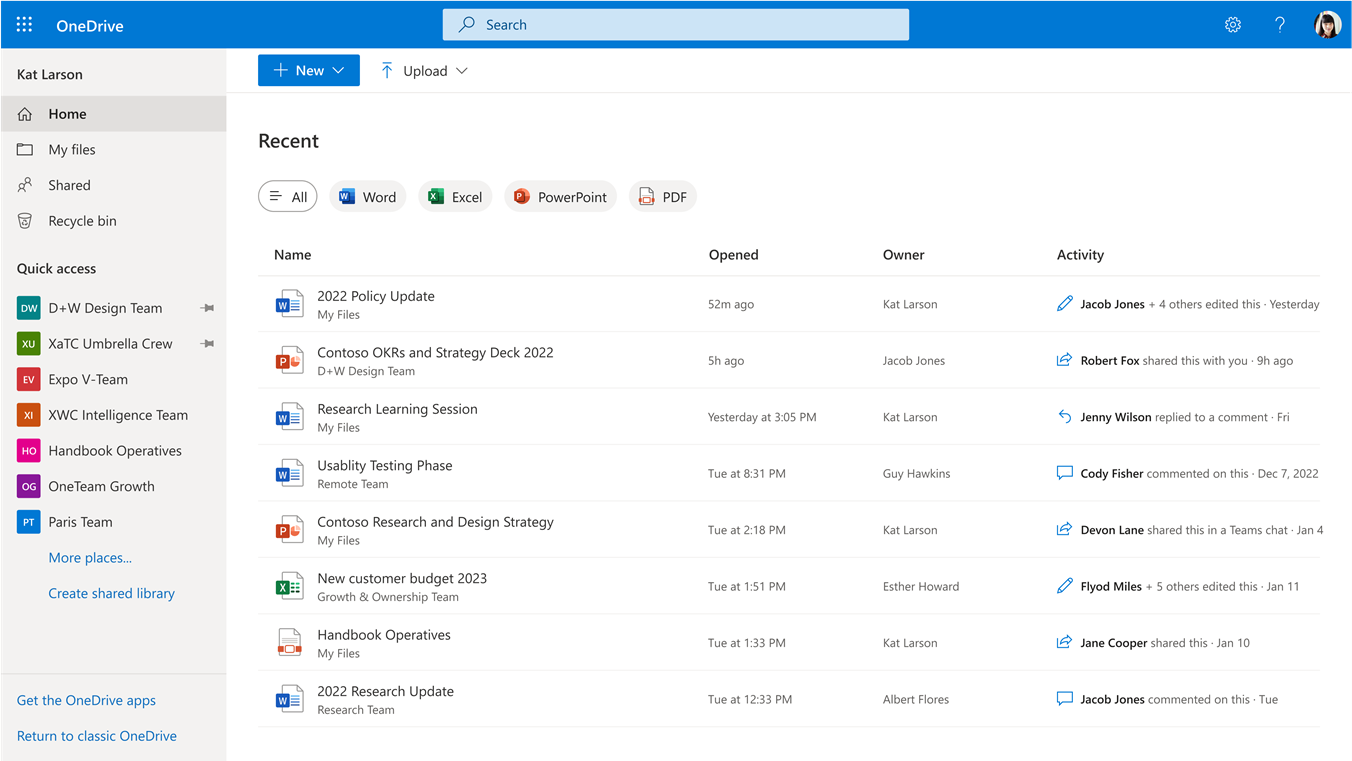 Cross-tenant synchronization lets you automate creating user accounts across tenants in your organization. Users created by the synchronization process continue to authenticate in the same way they do on their primary tenant and each application can assign conditional access policies as appropriate. So now, users across your organization can access applications regardless of the tenant where they are hosted, including Microsoft applications like Teams and SharePoint, as well as non-Microsoft applications like ServiceNow, Adobe, and hundreds more SaaS apps.
macOS software update policies on supervised Mac devices are now fully available, all within the familiar Intune admin experience. With this addition, you can control how, what, and when software updates, including an update time window to minimize impact to user productivity. IT admins can now easily manage firmware, configuration files, and other critical updates, such as OS and built-in apps.
With Intune, IT admins can now manage vulnerability patches, specific firmware updates, the updated version of XProtect, Malware Removal Tool, Gatekeeper, and built-in apps (like Safari) all in addition to standard OS updates, such as macOS 13.0.1.
With this release, users have the option to export their wiki content to OneNote notebooks in a Teams standard channel. After exporting users can go to the Notes tab to collaborate using OneNote in channels.
Note: With this change, users can continue to access and edit existing wikis but can't create new wikis in Teams channels.
10.
Beginning February 13th 2023 the Safe Links Block List will no longer be enforced. Entries on this list will not be blocked at time of click. All entries should be moved to the Tenant Block List. The list will remain for an additional 30 days from February 13th 2023, until the end of March 2023 when it will be retired.
Microsoft has stopped the automated migration efforts to migrate all entries from your Safe Links Block List to the Tenant Allow Block List. Organizations will have the ability to review and take action on the entries that were unable to be migrated. Any entries that are unable to be migrated will be marked as such and organizations will have the ability to resolve that entry and run the migration again. Tenants will have until January 2023 to complete this activity, at which point the Safe Links Global Block List will be retired.
Note: Any entry migrated from the Safe Links Block List to the Tenant Allow/Block List will adopt the behavior of TABL. This means that any message with the URL present will be moved to Quarantine. If deleting an already migrated entry from TABL, it needs to be removed from BlockURLS to avoid migration.
As a reminder beginning in June tenants will no longer have the ability to add to the Safe Links Block List in the Global Setting menu. Microsoft will attempt to migrate the Safe Links Block List to the Tenant Allow Block List (TABL) on behalf of the organization. Any entries that are unable to be successfully migrated will be marked as such in the Block List and organizations will have the ability to take action as needed beginning in July.