Microsoft made over 100 updates and announcements in the month of October 2023 for the Microsoft 365 platform. Don't have time to read them all? We've gone through all of them and put together what we feel are the most important updates for you to be aware of.
Loop facilitates a more fluid and integrated way of working, enabling users to collaborate in real-time or asynchronously across various Microsoft 365 applications. Microsoft is introducing collaborative Loop components in Teams channels, allowing users to create, share, and edit components seamlessly within the context of their conversations. Loop components can be copied and pasted across Teams, chats, Outlook emails, and other supported Microsoft 365 apps, ensuring the latest updates are visible everywhere. Components created in Teams channels are stored in the channel's SharePoint site, making them easily accessible to channel members. Whether created within the channel or pasted, users can access components from the Files tab or within the broader Microsoft 365 ecosystem, such as OneDrive or Office.com.
Application Management for Windows is now generally available. The highly anticipated application management for Windows is now generally available! With this capability, people can securely connect to enterprise resources from their personal BYO Windows device in a secure way. In September, Microsoft released support for Microsoft Edge for Business (watch this video to see it in action). In the October release of Intune, the ability to require app protection policy (APP) in Conditional Access is also available with Microsoft Entra ID.
With this change, BYO Windows devices are now more viable for companies and will enjoy similar protections as those BYO devices which previously had access to these policies, such as Android and Apple devices.
Starting in early November 2023, and scheduled to complete by late November 2023, Microsoft will be releasing an update that will allow OneDrive users to easily find their Microsoft Lists, Loops, PowerBI dashboards and Whiteboard content from OneDrive on the web. These types of content were not visible before from OneDrive web until this update. Users may see the banner below only if these content types are present in their Recent or Shared with You lists.
Starting in mid-November, Microsoft will be releasing a dictation feature in the latest version of Outlook which will allow for authoring of emails using speech-to-text capabilities. When creating a new message, the compose ribbon will display a blue microphone icon referred to as the "dictation button". Clicking this button will initiate the dictation, enabling to capture a tone when drafting emails and sending replies. The feature relies on the computer having a microphone and reliable internet connection. The feature roll out will be automatic and is targeted for completion by early December.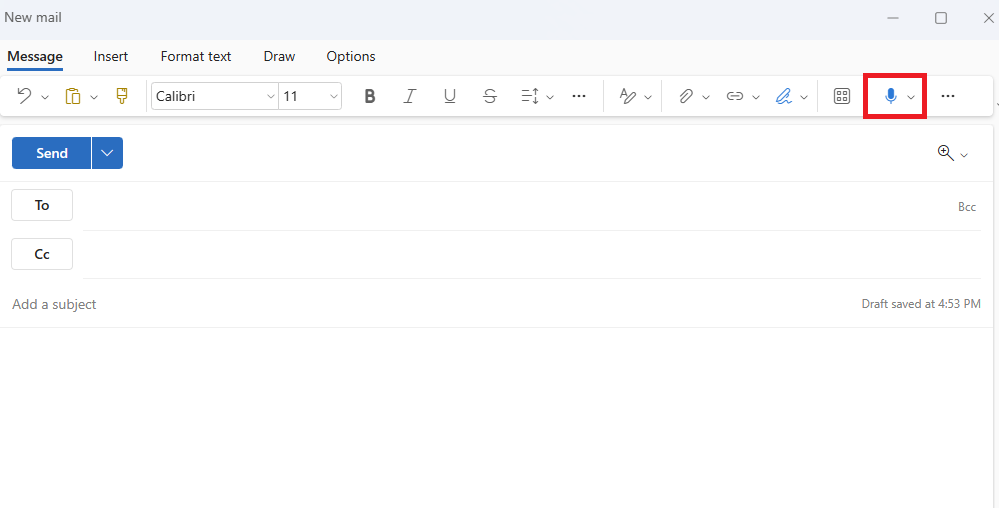 Customers who currently have Syntex pay-as-you-go licenses will have several new features available starting the end of October. These features will be free during this preview timeframe, and will include:
Content query
Universal annotation
Contracts accelerator
Accounts payable accelerator
Taxonomy features (including import using SKOS, SKOS formatting reference, push content type to hub, and term store reports)
PDF merge/extract pages
Content processing rules: move or copy a file, set a content type from file name.
Customers who are still using per-user licenses will not have access to these new features, and will have to change to the pay-as-you-go license to use them. Per-user licenses can still be used and assigned to new users, but limited to the original Syntex features outlined here. For GCC organizations, pay-as-you-go licenses are not currently available, and per-user licenses can still be purchased for the foreseeable future.
Collaborate more easily by creating teams and channels simpler and faster.
Currently, the team and channel creation processes have several steps and are focused on letting users create teams at the top level, with channel creation as an option for each team.
Microsoft is making the team create experience simpler by default, but still giving users the advanced options of creating a team from a template or group and choosing the privacy/ sensitivity of the team if they want.
To help users create channels within teams, Microsoft is putting "create channel" option at the top. They will be able to host the channel in a default team or a team they select.
Users can now create the right collab space by choosing between team or channel. Overall, users can now set up the right teams or channels from the + button, without having to go to different places or follow multiple steps.
SharePoint document libraries are getting a new and improved creation experience that will make it easier and faster to manage your content. You will be able to choose from three options when creating a new document library: blank, from existing, or from templates.
Blank libraries will remain as basic as it gets, while creating from an existing library will let you copy the structure and settings of any library you have access to, across your entire SharePoint tenant. Templates will offer you ready-made libraries for common scenarios, such as media, invoices, and learning. These templates will also include pre-defined flows that you can use or skip as needed.
The new document library creation experience will be available from the Document Library creation experience from SharePoint Home and SharePoint Sites as soon as early November for Targeted Release and mid-November for Standard Release.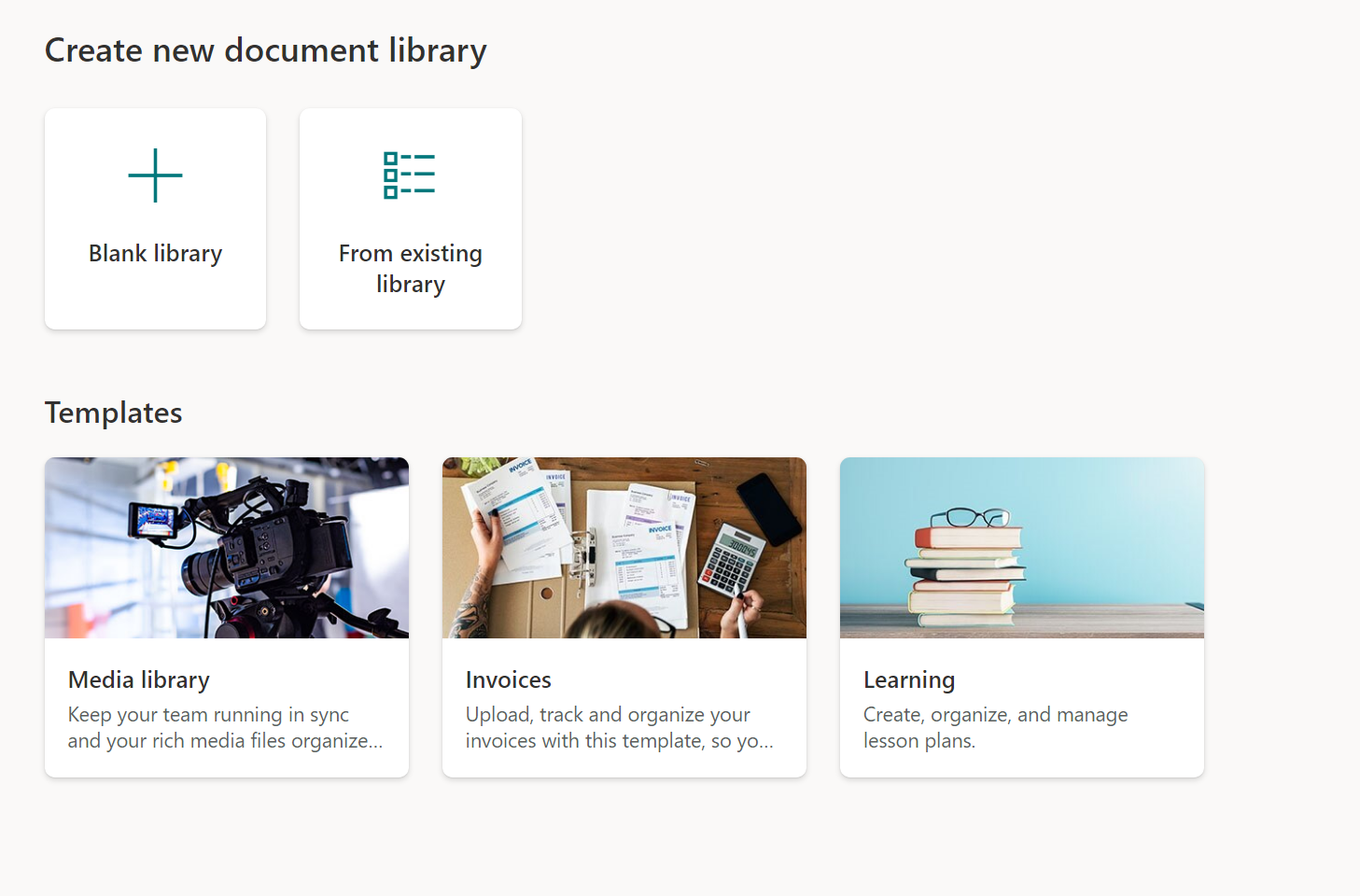 Starting in November 2023, tenant admins will be able to turn off the ability for users to share inbox and calendar folders by utilizing the new Office Cloud Policy Service "Turn off folder sharing."
When this policy is turned on, users will be able to block future sharing of inbox and calendar folders in OWA. Existing users that have been granted permissions to the inbox and calendar will not be affected. If admins wish to continue to allow users to delegate their inboxes and calendars, no action is necessary.
This capability is only active when the policy is turned on.
These Power Platform URLs and IP address ranges are critical to the operation of the Power Platform API, and starting Wednesday, November 22, 2023, your service may be negatively impacted in the following scenarios:
If you use any in-house firewall rules to restrict network traffic to URLs or IP addresses, if unaddressed, this change will lead to service interruptions.
If you have employed Azure Active Directory Conditional Access policies targeting the cloud service "Microsoft Flow" or "Microsoft Power Platform API". As client experiences (e.g.

https://make.powerautomate.com) adopt "Power Platform API", Conditional Access policies targeting "Microsoft Flow" will no longer result in the same Conditional Access enforcement.
In commercial cloud, these are the cloud services being referenced and their corresponding application ids:
"Microsoft Flow" application id: 7df0a125-d3be-4c96-aa54-591f83ff541c
"Power Platform API" application id: 8578e004-a5c6-46e7-913e-12f58912df43
The cloud service dependency change is occurring in all clouds.
10. Information Support for Office 2016 and Office 2019 connecting to Microsoft 365 has ended
As previously announced, Office 2016 and Office 2019 clients have reached the end of support for connecting to Microsoft 365 services such as Exchange Online, SharePoint Online, and OneDrive for Business. This means that you may experience performance or reliability issues when using these versions of Office to access Microsoft 365 services.
From now on, improvements to Microsoft 365 services will no longer be tested with Office 2016 and Office 2019. Therefore, even if you can connect to Office 2016 or Office 2019 to Microsoft 365, end users could experience performance or reliability issues.
11. Business Connectivity Services (BCS) retirement
Microsoft is announcing its plan to retire Business Connectivity Services (BCS) in Microsoft 365 and focus on Microsoft Power Apps as its replacement technology.
Starting January 8, 2024: Microsoft will block Business Connectivity Services features in new Microsoft 365 tenants by default, as well as in tenants who haven't used the feature since October 30, 2023.
If your organization uses Business Connectivity Services, it will no longer function after September 30, 2024. This includes features such as:
External lists
External columns
External content types
Business Connectivity Services hybrid solutions